How marketing strategies with digital 3D models can be a competitive advantage? Latest the attendance at major lighting fairs make it jaw-droppingly clear to every lighting manufacturer how challenging it is to introduce a new lighting solution into the market. The competition is overwhelming.

Good and fresh products can draw attention. But the next hurdle is to get the product to the end customer's attention with reasonable profit margins for everyone involved. Manufacturers, sales agents, and retailers don't engage without solid profit.

The demise of design shops in the cities and the subsequent migration of sales onto web shops that are quickly turning into monopolies with high provision margins contribute to this challenge.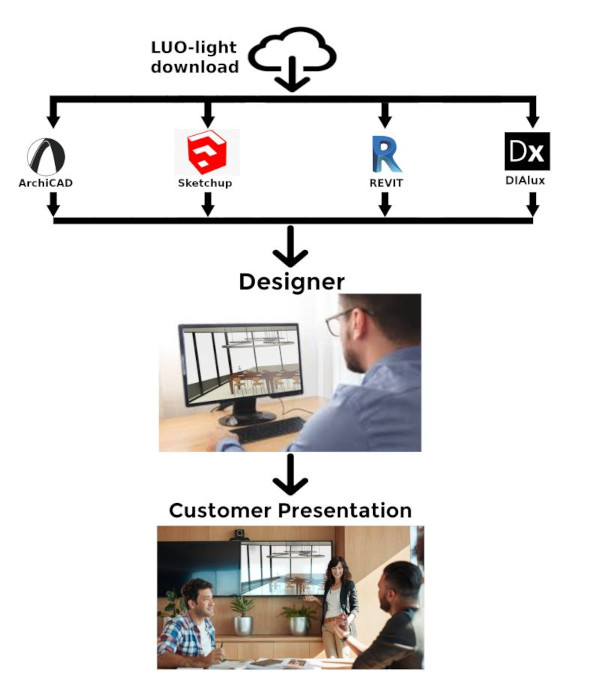 A perhaps still unrecognized potential to circumvent this problem is to develop design tools for lighting planners. Digital design instruments that support lighting designers to efficiently exercise their tasks. Our freely downloadable ArchiCAD tool for example allows the instant creation of light configurations. The accurate photometric data enables planners to render accurate lighting effects for customer presentations. It also helps to get accurate lighting values to make sure that lighting recommendations are met.

Digital models can super easily be distributed and eventually reach key decision-makers. For us, it is still too early to say for sure if marketing and sales can rely solely on digital planning instruments. Eventually, costs for webshops, sales agents, and retailers can be cut out entirely. The signs that this might be the case, however, are encouraging.

The free tools are available on our website.